Is Africa a Country or a Continent?
Africa is not a Country it is a Continent, in fact, Africa is the world's second-largest continent. Africa is so big that it can fit India, China, Europe, and the US and still leave some more space to fit small countries. With its 30.37 million km² it fits 54 countries and has a total population of over 1.216 billion people in the Northern, West African, East Africa, Central and Southern African regions.
Africa is located in between the Indian Ocean and the Atlantic Ocean, and to the north is the Mediterranean Sea.
Africa is simply not a country because it doesn't have a single or similar military or political system in the way that countries do.
All the 54 countries above are independent have different governments.
You may believe that the response to this issue is a no-brainer, but it is interesting that our colleagues in the West and the rest of the world may believe otherwise. So from today on if someone asks you if Africa is a Country just send share this article with them.
Did you know: Australia is not only a country but a continent, and there is only one of its kind in the whole world. Confusing right? Click here to find out what makes Australia a Country and a Continent.
Africa comprises more than 54 sovereign States, 9 regions and two de facto autonomous countries with little or no acceptance. 32 of the 54 nations are more focused on the southern hemisphere, including Zambia, Zimbabwe, Tanzania, South Africa and a number of other common nations. Africa is the biggest of the three elevated eastward predictions from the landmass of the biggest earth. Its shoreline is approximately 26,000 km long and has no profound indentations on its coasts.
Here are some facts about Africa that you didn't know:
The 

majority, 

almost 

half, 

of 

the 

gold 

in 

the 

globe 

comes 

from 

South 

Africa.

Lake 

Retba, 

found 

in 

Senegal 

is 

a 

pink lake 

in 

Africa. 

It's 

a 

lake 

made 

by 

people 

and 

is 

the 

world's 

largest.

Farmers 

use 

"Beehive 

fences" 

in 

certain 

areas 

of 

Africa 

to 

help 

prevent 

elephant 

disturbance 

without 

hurting 

elephants.

Collectively, 

more 

human 

fossils 

have 

been 

generated 

in 

South 

Africa, 

Kenya 

and 

Ethiopia 

than 

any 

other 

nation.

The 

constitution 

of 

South 

Africa is 

said 

to 

be 

the 

world's 

finest 

constitution.

Incorporated 

in 

the 

Mozambique

flag, 

is 

an AK-47 

rifle 

symbolizes 

the 

nation's 

fight 

for 

autonomy.
There is a tribe in Africa, Mursi Tribe, where women pierce their lips and insert plates that are as large are 5 inches in diameter, inside them(lips).
Countries across Africa are taking a step of banning plastic bags to save the environment and, consequently, it is illegal, in some countries, to be found with a plastic paper bag.
---
SUMMARY
A 

country 

is 

a 

part 

of 

a 

continent 

defined 

by 

certain 

geographical 

regions.

A continent is a very large landmass usually with several countries inside of it, and it's separated by water in most cases from any other landmass.

Africa is a Continent, not a Country
---
Hope you liked our article on Is Africa a Country or a Continent?!
Question: How many countries are in East Africa?
Answer: 21
1. Tanzania
Officially known as the Republic of Tanzania and has a total population of 57.31 million led by John Magufulli as the president. Tanzania is famous for having the highest mountain known as Mount Kilimanjaro and also for its wildlife-rich national parks such as the Serengeti Nation Park.
Tanzania is generally a safe country to visit with very friendly locals. Tanzania's capital city is Dodoma.
2. Kenya
Kenya is an East African nation with the Indian Ocean coastline. With a population of about 47 million people, Kenya has Uhuru Kenyatta as their leader. Kenya has many tourist attractions and also know to be the only country with a national park in the city. Kenyans are known for being great long-distance runners.
Kenya's capital city is Nairobi which has a total population of 4 million people.
3. Uganda
Uganda is a landlocked country in East Africa whose diverse ecosystems include the snowcapped Rwenzori Mountains and the massive Victoria Lake. Farming accounts for almost one-quarter of Uganda's GDP. The country is renowned for its production of tea, tobacco, and cotton. Uganda is widely seen as a peaceful country with low rates of crime.
The capital city of Uganda is Kampala and its official language English and Swahili.
4. Rwanda
In eastern Central Africa, Rwanda is a landscaped republic located south of Equator. Rwanda has one of the highest population densities in sub-Saharan Africa and is geographically a small country. Rwanda has a population of about 12 million people.
Rwanda's capital city is Kigali and it is one of the cleanest capitals in Africa.
5. Burundi
Gitega is the capital city to the landlocked country Burundi with a total population of 10.86 million people. On 1 July 1962, the nation declared independence, changing its name legally from Rwanda-Urundi to Burundi. Their official languages include French, English, and Kirundi. Burundi is generally considered not safe for tourists by other Governments and is considered to be one of the poorest countries in the world.
6. South Sudan
In 2011, it achieved independence from the Republic of Sudan and is now widely recognized as the newest sovereign state. South Sudan's capital city is Juba and the country has a population of about 12.58 million people. Juba is also the largest city in South Sudan.
South Sudan is one of the world's poorest. Most of the country's villages have no electricity or running water and there is not enough infrastructure for the country with just 10,000 kilometers of asphalt roads.
7. Djibouti
It is located in the Horn of Africa. Djibouti, partly due to a large western military presence, is one of the safest destinations in Africa. Serious crime or animosity specifically aimed at travelers is very rare and there is nothing else to think about than in most other nations.
Djibouti has a population of about 1 million people. Their official language is Arabic and French.
8. Eritrea
With a population of about 5 million people, Eritrea is known to be founded on 27 April 1993. The existence of hundreds of thousands of land mines has left Eritrea facing environmental issues such as continuous deforesting, desertification, soil erosion, overgrazing, and major land losses.
Eritrea's capital city is Asmara and its official language is Tigrinya.
9. Ethiopia
Also located on the horn of Africa, Ethiopia is the largest country in East Africa and has a population of 106 million people. Ethiopia is one of the oldest countries in the world and its territorial scope has varied throughout its thousands of years. Ethiopia is bounded north by Eritrea, northwest by Djibouti, east by Somalia, south by Kenya, and west by South Sudan.
Ethiopia's official Language is Amharic
10. Somalia
Mogadishu being its capital city the country has a population of about 15 million people.  It is bordered on the west by Ethiopia, the north by the Aden Gulf, the east by the Guardafui Channel and the southwest by the Somali Sea.
11. Comoros
Comoros, in the warm waters of the Mozambique Channel Indian Ocean off the East coast of Africa, is a volcanic archipelago. The capital and also the largest city in Comoros is Moroni.  The Official languages include French, Comorian, and  Arabic. Comoros is among the world's least developed countries with 45 percent of the population living below the poverty line and ranked third from the last in the 2013 Global Hunger index.
12. Mauritius
Mauritius is known for its beaches, lagoons, and reefs as an Indian Ocean Island nation. The mountain interior is made up of National Park Black River Gorges, with rainforests, cascades and animals like the flying fox.
Its capital city is Port Louis and the country has a population of 1.3 million people. It is located 2.000 km off the African continent's south-east coast.
13. Seychelles
Seychelles is also considered as one of the countries in East Africa. Seychelles are an archipelago of 115 islands off East Africa in the Indian Ocean. It is home to numerous beaches, coral reefs, natural parks, and rare animals, including the giant tortoises of Aldabra. It is also home to the Morne Seychellois mountain rainforests, as well as beaches such as Beau Vallon and Anse Takamaka.
Seychelles has a population of about 100,000 people.
14. Reunion
Réunion island is known for its tropical, rainforest interior, coral reefs and beaches, as a French department of the Indian Ocean. It has a population of fewer than 1 million people and uses Euro as their national countries. Saint-Denis is the capital city of Reunion.
15. Mayotte
Mayotte is an Indian Ocean archipelago between Madagascar and Mozambique's coast. Mayotte is the smallest country in East Africa and has a population of 270,372 people. They speak french as their official language.
16. Mozambique
Mozambique is a nation in East Africa whose long coastline has popular beaches, including Tofo and offshore marine parks. Mozambique is the largest of its kind.
Mozambique, although a beautiful country and lots of tourist attractions, has ever been listed as the poorest country. It has a population of about 29.67 million and its capital city is Maputo (which was once known as  "Lourenço Marques" from 1876 to 1976).
17. Madagascar
Madagascar is an island country in the Indian Ocean that lies about 400 kilometers off the East African coast, and the Republic of Madagascar, formerly known as the Malagasy Republic.
Madagascar has a population of about 25.57 million and the island is famously known for wildlife and culture
18. Malawi
The topography of the highlands of Malawi, a landlocked country in the Southeast, is distinguished by the Great Rift Valley with its massive Lake Malawi. The South end of the Lake Malawi National Park-which houses a range of wildlife from baboons to colorful fish-is also popular for boating and diving in clear waters.
Malawi's capital city is Lilongwe with the country having a total population of 18.9 million people.
19. Zambia
Zambia is a landscaped country in East Africa with rough terrain and wildlife, and numerous parks and safari areas.
Zambia has a population of 17 million people with its capital city being Lusaka
20. Zimbabwe
Zimbabwe is an East African landlocked country known for its stunning scenery and abundant wildlife, many in parks, reserves and safari regions.
Zimbabwe means "great houses of stone," which come from the language of Shona. Zimbabwe has a total population of 16.6 million people.
21. Sudan
With a population of 40 million people, It borders on the north by Egypt, northwest by Libya, west by Chad, southwest by the Central African Republic and to the south by South Sudan, South-east Ethiopia, east by Eritrea and northeast by the Red Sea.
Sudan's capital city is Khartoum.
---
Question: How many countries are in East Africa?
Answer: 21
---
Hope you Liked our List of Countries in East Africa!
101 Facts That Will Make You Want To Travel To South Africa
In this List, we will give you 101 Interesting Facts about South Africa:
Christiaan Barnard was the first Doctor to perform the first human heart transplant in Cape Town in 1967.
South Africa has The Rovos Rail, the world's most luxurious train in The World.
The Palace of the Lost City in South Africa is the world's largest themed resort hotel in the world.
South Africa hosts the world's largest commercial Bungy jumping in the world which is 710 feet.
A migration of South African fish is so large that it can be seen from outer space.
South Africa has the cheapest electricity in the world.
There was an apartheid government – white minority rule – in South Africa for nearly 50 years.
South Africa is the world's largest country with an HIV epidemic. It is said that one in five men is suffering from Aids in South Africa.
South Africa is considered to have one of the most blue and beautiful sky in the world.
In South Africa it is opposed by law if someone wears nothing but a bathing dress and sits next to any person of the opposite sex over 2 m.
The official name of South Africa is the Republic of South Africa.
The oldest meteoric scar in the world is in South Africa, the Vredefort Dome in a region that is called Parys.
South Africa has the Largest Economy in the Continent of Africa
South Africa is one of the most developed countries in Africa
Cave paintings have been discovered in South Africa that date to about 75,000 years ago
South Africa has three capital cities, Pretoria, Bloemfontein, and Cape Town.
Drivers in South Africa use the left side of the road.
Soccer, rugby and cricket are the most popular sports in South Africa.
South Africa is the only country in Africa that has ever hosted the world cup which took place in 2010.
Johannesburg is the biggest town in South Africa. Soweto and Durban are also major cities.
South Africa has 11 official languages, which include: Afrikaans, Dutch, Ndebele, Sotho, Swazi, Tswana, Tsonga, Venda, Xhosa Zulu, and English
The length of the coastline of South Africa reaches over 2500 kilometers (1553 miles).
The Major Rivers in South Africa are Limpopo and Orange
South African Flag
South African brewery SABMiller is – by volume the world's largest brewery. Up to 50% of China's beer is also supplied by SAB Miller.
The world's smallest (less than 0.39 inch) and largest (the baobab tree) sugar plants are found in South Africa.
South Africa has a population of about 55 million people with a land area of about 1,219,089 square kilometers.
According to the World Bank, South Africa has the highest income inequality in the world in 2019.
South Africa is the largest macadamia nuts manufacturer in the world.
According to the World Bank, South Africa has the highest income inequality in the world in 2019.
The longest wine route in the world is in South Africa.
The third biggest canyon in the world – and the largest green – is the Blyde River Canyon which is found in South Africa.
In Soweto, the only street in the world that houses two Nobel Peace Prize winners. The Nobel Price Winners were Nelson Mandela and Archbishop Desmond Tutu.
Today, South Africa is the only nation worldwide to host a World Cup of Football, Cricket and Rugby.
South Africa has: deserts, wetlands, grasslands, bush, subtropical forests, mountains and escarpments.
The Table Mountain is considered to be one of the world's oldest peaks and one of the world's 12 major energy centers of magnetic, electrical or religious power radiating.
The drinking water of South Africa is ranked as the 3rd best drinking water in the world.
South Africa's Cape Winelands have around 560 wineries and 4 400 primary producers
South Africa is the only country in the entire world that has voluntarily abandoned its nuclear weapons program.
South Africa's mining and mineral riches are strong and considered the world leader with almost 90% of all earth's platinum metals and around 41% of the world's gold!
Out of the South African Sea, there are over 2000 shipwrecks; the majority date from at least 500 years.
Johannesburg has the largest man-made forest in the world. It has more than 10 million trees.
Nearly 80% of the population of South Africa is Christian
South Africa was the first African country to recognize same-sex marriage in 2006 and the fifth country in the world.
The largest bicycle race in the world is in  South Africa and hosts 35,000 riders.
South Africa is the largest producer of platinum in the world.
At the Premier Mine in Pretoria, South Africa, on 25 January 1905, the world's biggest diamond was discovered
---
Hope you Liked our Interesting Facts About South Africa!
All South African Presidents
South African Presidents have been 11 since the time of independence. We will get to discuss each one of them here, from Cyril Ramaphosa to Charles Robberts Swart.
Here you will find a list of all the South African Presidents from the year 1961.
Cyril Ramaphosa
(2018-
Born on 17 November 1952 is Cyril Ramaphosa who is the current president of South Africa and came to power by his involvement in a liberation struggle for democratic South Africa. Ramaphosa grew up in the slums of Soweto and first got involved with politics in 1982.
Ramaphosa is said to be one of the richest people in South Africa with a net worth of about $550 million. The president has many properties throughout the country, including farmhouses and a luxury house in Cape Town.
Did you Know? Ramaphosa is the man who has been credited with bringing McDonald's to South Africa, which at one time has more than 145 fast food stores.
Ramaphosa is a member of the International Advisory Board of the Coca-Cola Company.
Jacob Zuma
(2009-2018)
Jacob Gedleyihlekisa Zuma served for exactly 10 years after then he announced his resignation on 14 February of 2018, and was succeeded by Ramaphosa exactly the next day. Zuma was born on 12 April 1942 in Nkandla, South Africa.
He began work as a child to support his family and therefore could not pursue formal schooling after losing his father early in life. He joined the National Party of Africa and its military wing during his adolescence. His conspiracy to overthrow the South-African apartheid government earned him a sentence of ten years in jail. His father died in the World War II.
Did you know? He has married six times and he is a polygamist. He has four wives at present and is known as the father of 20 children, born of his wives, friends and other women.
Kgalema Motlanthe
(2008-2009)
Kgalema Petrus Motlanthe served as president between 25 September 2008 and 9 May 2009 this was exactly after the resignation of Thabo Mbeki.

He did not want any government position in the 2009 elections. He said that his goal was to "ensure the proper opening of the new President." President Jacob Zuma chose him to hold a post until 2014 as Deputy President.
Thabo Mbeki
(1999-2008)
Thabo Mbeki was born on 18 June 1942 and served as South African President from 16 June 1999 to 24 September 2008 after Nelson Mandela.
He earned a Masters of Economics degree from Sussex University in Britain and received military training in the Soviet Union, which really helped in the ANC's armed campaign against apartheid.
In 2004 Mbeki was re-elected as president approved by the constitution of South Africa for the second term. Yet he lost an ANC leadership contest at the end of 2007 to rival Jacob Zuma, who was now set as President of South Africa in next year.
Did you Know?  Thabo Mbekis' father was in the same jail with Nelson Mandela.
Nelson Mandela
(1994-1999)
Born on 18 July 1918 was Nelson Rolihlahla Mandela who went ahead to become the first black head of state in South Africa.
Nelson was prisoned for life in 1962 for trying to overthrow the apartheid government of South Africa. He had secret talks during his time in prison with F. W. de Klerk, President of South Africa and was able to be released as a result of the talks. He was in prison for more than 27 years. 
In 1993, Mandela and  F.W. de Klerk received a Nobel peace prize for fighting the apartheid government system.
He then became president in 1994 elected by a democratic system.
He died on 5 December 2013.
Frederik Willem de Klerk
(1989-1994)
De Klerk was born on 18 March 1936 in Johannesburg and later became the President of South Africa in 1989. After finishing his degree in Bachelor of Law in 1958 he went ahead and became the Legal Counsel to the National Party until 1972. He won the Nobel Peace Price in 1993 and went ahead retiring from politic in 1997.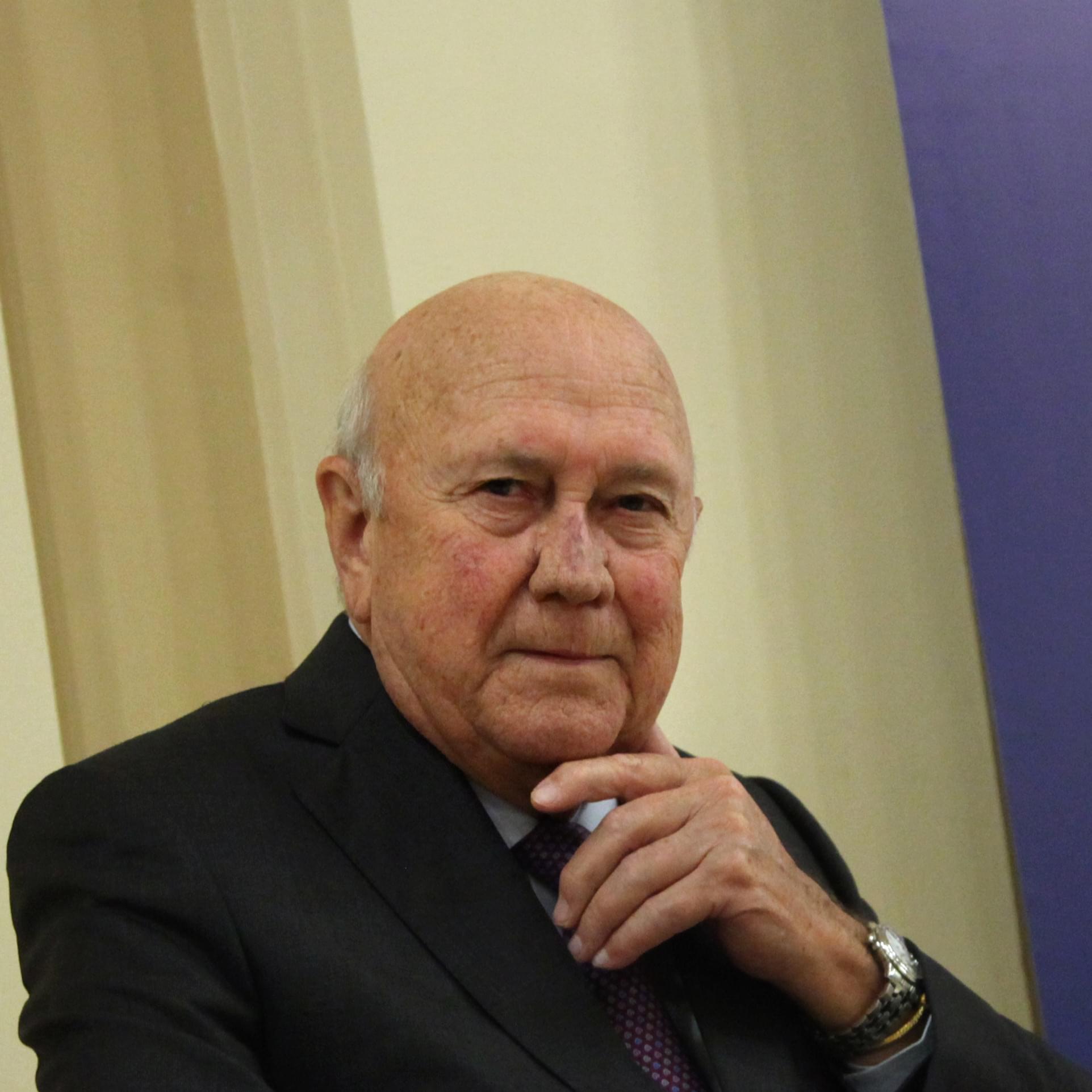 Chris Heunis
(1989-1989)
Chris Heunis was only 'president' for a little over 2 months this was because when the current President Pieter Botha suffered cerebral congestion. He was one of the candidates for the 1987 elections but was beaten in the second round of elections.
Heunis later retired from politics and did not take part in the 1989 elections.
He died on January 2006
P. W. Botha
(1984-1989)
Pieter Willem Botha was born in South Africa on 12th January 1916 to a father that was a commando and a mother that was held in a British concentration camp during the war.
He was studying Law but later dropped it to pursue his political career.
In 1983, Botha presented a new constitution, but it could only be voted on by white people.
It is widely acknowledged that thousands of individuals have been imprisoned, detained and tortured and killed, under the leadership of Pieter Willem Botha. Botha refused to apologize for apartheid because he believed that he had done his country the right thing.
He died on 31 October 2006.
Marais Viljoen
(1979-1984)
Born on 22 July 1903
Jan de Klerk
(1975-1975)
He was the father to Frederik Willem de Klerk.
Charles Robberts Swart
(1961-1967)
The First White President of South Africa was Charles Robberts Swart born on 1894.
---
All South African Presidents
Cyril Ramaphosa
(2018-
Jacob Zuma
(2009-2018)
Kgalema Motlanthe
(2008-2009)
Thabo Mbeki
(1999-2008)
Nelson Mandela
(1994-1999)
Frederik Willem de Klerk
(1989-1994)
Chris Heunis
(1989-1989)
P. W. Botha
(1984-1989)
Marais Viljoen
(1979-1984)
Jan de Klerk
(1975-1975)
Charles Robberts Swart
(1961-1967)
---
Question: When did South Africa gain ts independence?
Answer: South Africa gained its independence on 31 May 1961.
Question: How many presidents has South Africa had?
Answer: South Africa has had 11 presidents since 1961 when they gained independence.
Question: Who is the current South African president?
Answer: Cyril Ramaphosa