What are the 54 Countries in Africa
Countries of Africa are all listed below.
Africa is one of the largest continents in the world, currently ranked at number 2 out of 7 continents.
It covers an area of 30.37 million km²(11.7 million square miles) and has a population of 1,216,130,000 people which is 16.36% of the world's population.
Among the countries in Africa, Algeria is the largest and Nigeria has the largest population of 154.7 million people which represents 18% of Africa's total population.
Down below is a list of all the of the African Countries in alphabetical order
What are the 54 Countries in Africa?
A
Algeria
Angola
B
Benin
Botswana
Burkina Faso
Burundi
C
Cabo Verde
Cameroon
Central African Republic
Chad
Comoros
Congo, Republic
Congo, Democratic Republic
Côte d'Ivoire
D
Djibouti
E
Egypt
Equatorial Guinea
Eritrea
Ethiopia

G
Gabon
Gambia
Ghana
Guinea
Guinea-Bissau
K
Kenya
L
Lesotho
Liberia
Libya
M
Madagascar
Malawi
Mali
Mauritania
Mauritius
Morocco
Mozambique
N
Namibia
Niger
Nigeria

R
Rwanda
S
Sao Tome and Principe
Senegal
Seychelles
Sierra Leone
Somalia
South Africa
South Sudan
Sudan
Swaziland
T
Tanzania
Togo
Tunisia
U
Uganda
Z
Zambia
Zimbabwe
Here is a list of all African Countries by population
Nigeria

193,392,517

Western Africa

Ethiopia

99,391,000

Eastern Africa

Egypt

96,983,083

Northern Africa

Democratic Republic of the Congo

86,026,000

Middle Africa

South Africa

54,956,900

Southern Africa

Tanzania

51,046,000

Eastern Africa

Kenya

49,533,000

Eastern Africa

Sudan

40,235,000

Eastern Africa

Algeria

40,100,000

Northern Africa

Uganda

34,856,813

Eastern Africa

Morocco

[1]

33,337,529

Northern Africa

Mozambique

28,013,000

Eastern Africa

Ghana

27,043,093

Western Africa

Angola

24,383,301

Middle Africa

Ivory Coast

22,671,331

Western Africa

Madagascar

22,434,363

Eastern Africa

Cameroon

21,917,602

Middle Africa

Niger

17,138,707

Western Africa

Burkina Faso

18,450,494

Western Africa

Mali

14,528,662

Western Africa

Malawi

16,832,900

Eastern Africa

Zambia

15,473,905

Eastern Africa

Somalia

12,316,895

Eastern Africa

Senegal

14,354,690

Western Africa

Chad

11,039,873

Middle Africa

Zimbabwe

13,061,239

Eastern Africa

Rwanda

10,515,973

Eastern Africa

Tunisia

10,982,754

Northern Africa

Guinea

10,628,972

Western Africa

Benin

10,008,749

Western Africa

Burundi

9,823,828

Eastern Africa

South Sudan

8,260,490

Eastern Africa

Togo

6,191,155

Western Africa

Eritrea

6,536,000

Eastern Africa

Sierra Leone

6,348,350

Western Africa

Libya

5,298,152

Northern Africa

Republic of the Congo

3,697,490

Middle Africa

Central African Republic

3,859,139

Middle Africa

Liberia

3,476,608

Western Africa

Mauritania

3,718,678

Western Africa

Namibia

2,280,700

Southern Africa

Botswana

2,024,904

Southern Africa

Lesotho

1,894,194

Southern Africa

Gambia

1,882,450

Western Africa

Gabon

1,802,278

Middle Africa

Guinea-Bissau

1,530,673

Western Africa

Mauritius

1,261,208

Eastern Africa

Equatorial Guinea

1,222,442

Middle Africa

Eswatini (Swaziland)

1,119,375

Southern Africa

Djibouti

864,618

Eastern Africa

Comoros

806,200

Eastern Africa

Cape Verde

491,875

Western Africa

São Tomé and Príncipe

179,205

Middle Africa

Seychelles

90,947

Eastern Africa

Top 10 Countries With Very Beautiful African Women
The Lion King couldn't have been more right about life in Africa. Throw a little wildebeest in there along with some hyenas, and you can definitely have a saying here. Think about it, Africa has some of the most beautiful women in the world. I'm not talking 'bikini models' here. I'm talking naturally beautiful from head to toe.  Yeah, I know what you're thinking…stereotype! But back in my college days, we had to be on point at least once with that one girl. Mostly because every dude wanted them but also because of their looks.
Africa has some of the most beautiful women I have ever seen. The exotic fashion choices, the slight curve to their mesmerizing gait are all wonderful signs that nature's jewel box is full. Are you planning a trip? Need to know the best spots to travel? If so, please keep on reading.
10. Tanzania
Tanzanian women are famed for their beauty and homemaking skills. The latter emanates from their ancient tradition where women pass these skills to the young teenage girls.
If you are looking for a beautiful woman to take back home and introduce to your parents, Tanzania is most likely the place. The "kanga" is common attire for women here. The kanga is usually bright, colorful and a wind blowing garment.  
9. Eritrea
Eritrean women have an exotic look and features that could easily be mistaken for several different races. One of the fundamental reasons surrounding this could be that Eritreans together with Northern Ethiopians, which are collectively known as Habesha have a genetically unique phenotype.
The Caucasoid genes of Eritrean and some Northern Ethiopian women are more closely related to Mediterranean Caucasian groups such as Arabs and Berbers than their counterparts in East Africa.
8. Ghana
An African beauty list can never be complete without the gold coast. A Ghanaian woman is famed for her height and ebony skin. A well-rounded bottom is a conspicuous feature that cannot go unnoticed in this woman.
A Ghanaian woman is known for her respect. She is not known to brag, a good listener and not money minded. She will value a relationship more than a huge bank account.

7. South Africa
South Africa is definitely home to numerous African beauty queens. From Durban, Pretoria, Johannesburg to Cape Town, meet these gorgeous females in their day to day schedules.
A South African woman is stunning. It does not matter whether she is a Black South African or a White South African. Their amazing African facial features are amazing. You will definitely love their semi-curly, fluffy and sometimes natural afro hair. South Africa has really lived up to expectations in being a rainbow nation!
6. Angola
Angolan women, daughters of the Atlantic coast. This nation is more like little Brazil comprising of exotic women of varied texture. Most of these females have chocolate complexion.
On average, women have noble features and facial proportions. A number of them are supermodels. An Angolan woman's beauty is famed for its naturalness, no wonder the supermodels.
5. Nigeria
A Nigerian woman is famed for her well-rounded curve. Fertility is said to be a natural feature for these beauties. The population of this nation has grown tremendously especially between the '70s and 2011 pushing the nation at the top list as the most populous nation in Africa.
Women are said to be motherly and wife materials who cherish taking good care of their homes. She is known for her distinctive kitchen related matters.
4. Kenya
Welcome to Kenya! Home of warm, beautiful, independent and hardworking women. This woman will value her social life aficionado. She will put her best foot forward toiling and is passionate about eking a living. She is a true definition of "beauty with brains".
In addition to the Kenyan sensation, a Kenyan woman is curvaceous, tall, ebony skin tone and very jovial. A Kenyan woman is down to earth and easy to get along with.
3. Egypt
Ancient Egypt placed is known for the creation of perfumes, oils and other beauty treatments. The high emphasis on their physical appearance has a lot to do with women's beauty. Women here have a history of frowned up body hair with much more elaborate wigs.
A golden beautiful complexion is linked to a rich Egyptian woman. Female allure, also known as "divine aroma" is a crucial point in Egyptian writings.
2. Somalia
Someone who has never spotted the beauty of Somali women may be surprised by their unique features at first sight. The women here are remarkably beautiful and have come of age with many becoming a household name in foreign lands. The culture here has for long directed the behavior and dress code of this woman.
However, over time, a Somali woman is appearing in fashion competitions, and in western movies playing different characters. Her beauty is evident right from chocolate skin, soft long hair and stunning facial features.
Maybe this should have been number one?
1. Ethiopia
The fact that civilization started in Ethiopia makes it a no-brainer that the country is the home of the most beautiful African Women. Ethiopian queens are by far some of the most beautiful women in the world.
Some associate the beauty of these females to the mixing of Ethiopians with the Yemeni people. Whichever, they are superlative. Regardless, their characteristics are unique and incredibly attractive. They have unrivaled bodies and intriguing faces. Additionally, every woman here can perform incredible shoulder dances.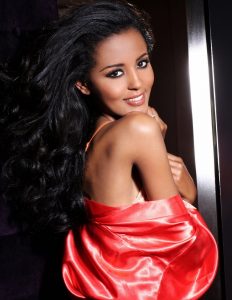 The list above gives you a place to start when preparing your next vacation plans. After all, what couldn't be better than relaxing on the beaches of some beautiful African women?
To be honest, these results were quite surprising, based on what I've seen around me and lived through as a native African. As far as my opinions and observations go, the best looking African women come from certain regions of Nigeria, Kenya, Egypt, Somalia, and Ethiopia
Countries with the Most Beautiful African Women
Question: Which country has the most beautiful women in Africa?
Answer: Ethiopia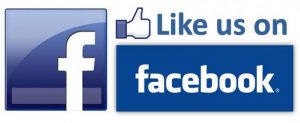 101 Facts That Will Make You Want To Travel To South Africa
In this List, we will give you 101 Interesting Facts about South Africa:
Christiaan Barnard was the first Doctor to perform the first human heart transplant in Cape Town in 1967.
South Africa has The Rovos Rail, the world's most luxurious train in The World.
The Palace of the Lost City in South Africa is the world's largest themed resort hotel in the world.
South Africa hosts the world's largest commercial Bungy jumping in the world which is 710 feet.
A migration of South African fish is so large that it can be seen from outer space.
South Africa has the cheapest electricity in the world.
There was an apartheid government – white minority rule – in South Africa for nearly 50 years.
South Africa is the world's largest country with an HIV epidemic. It is said that one in five men is suffering from Aids in South Africa.
South Africa is considered to have one of the most blue and beautiful sky in the world.
In South Africa it is opposed by law if someone wears nothing but a bathing dress and sits next to any person of the opposite sex over 2 m.
The official name of South Africa is the Republic of South Africa.
The oldest meteoric scar in the world is in South Africa, the Vredefort Dome in a region that is called Parys.
South Africa has the Largest Economy in the Continent of Africa
South Africa is one of the most developed countries in Africa
Cave paintings have been discovered in South Africa that date to about 75,000 years ago
South Africa has three capital cities, Pretoria, Bloemfontein, and Cape Town.
Drivers in South Africa use the left side of the road.
Soccer, rugby and cricket are the most popular sports in South Africa.
South Africa is the only country in Africa that has ever hosted the world cup which took place in 2010.
Johannesburg is the biggest town in South Africa. Soweto and Durban are also major cities.
South Africa has 11 official languages, which include: Afrikaans, Dutch, Ndebele, Sotho, Swazi, Tswana, Tsonga, Venda, Xhosa Zulu, and English
The length of the coastline of South Africa reaches over 2500 kilometers (1553 miles).
The Major Rivers in South Africa are Limpopo and Orange
South African Flag
South African brewery SABMiller is – by volume the world's largest brewery. Up to 50% of China's beer is also supplied by SAB Miller.
The world's smallest (less than 0.39 inch) and largest (the baobab tree) sugar plants are found in South Africa.
South Africa has a population of about 55 million people with a land area of about 1,219,089 square kilometers.
According to the World Bank, South Africa has the highest income inequality in the world in 2019.
South Africa is the largest macadamia nuts manufacturer in the world.
According to the World Bank, South Africa has the highest income inequality in the world in 2019.
The longest wine route in the world is in South Africa.
The third biggest canyon in the world – and the largest green – is the Blyde River Canyon which is found in South Africa.
In Soweto, the only street in the world that houses two Nobel Peace Prize winners. The Nobel Price Winners were Nelson Mandela and Archbishop Desmond Tutu.
Today, South Africa is the only nation worldwide to host a World Cup of Football, Cricket and Rugby.
South Africa has: deserts, wetlands, grasslands, bush, subtropical forests, mountains and escarpments.
The Table Mountain is considered to be one of the world's oldest peaks and one of the world's 12 major energy centers of magnetic, electrical or religious power radiating.
The drinking water of South Africa is ranked as the 3rd best drinking water in the world.
South Africa's Cape Winelands have around 560 wineries and 4 400 primary producers
South Africa is the only country in the entire world that has voluntarily abandoned its nuclear weapons program.
South Africa's mining and mineral riches are strong and considered the world leader with almost 90% of all earth's platinum metals and around 41% of the world's gold!
Out of the South African Sea, there are over 2000 shipwrecks; the majority date from at least 500 years.
Johannesburg has the largest man-made forest in the world. It has more than 10 million trees.
Nearly 80% of the population of South Africa is Christian
South Africa was the first African country to recognize same-sex marriage in 2006 and the fifth country in the world.
The largest bicycle race in the world is in  South Africa and hosts 35,000 riders.
South Africa is the largest producer of platinum in the world.
At the Premier Mine in Pretoria, South Africa, on 25 January 1905, the world's biggest diamond was discovered
---
Hope you Liked our Interesting Facts About South Africa!
All South African Presidents
South African Presidents have been 11 since the time of independence. We will get to discuss each one of them here, from Cyril Ramaphosa to Charles Robberts Swart.
Here you will find a list of all the South African Presidents from the year 1961.
Cyril Ramaphosa
(2018-
Born on 17 November 1952 is Cyril Ramaphosa who is the current president of South Africa and came to power by his involvement in a liberation struggle for democratic South Africa. Ramaphosa grew up in the slums of Soweto and first got involved with politics in 1982.
Ramaphosa is said to be one of the richest people in South Africa with a net worth of about $550 million. The president has many properties throughout the country, including farmhouses and a luxury house in Cape Town.
Did you Know? Ramaphosa is the man who has been credited with bringing McDonald's to South Africa, which at one time has more than 145 fast food stores.
Ramaphosa is a member of the International Advisory Board of the Coca-Cola Company.
Jacob Zuma
(2009-2018)
Jacob Gedleyihlekisa Zuma served for exactly 10 years after then he announced his resignation on 14 February of 2018, and was succeeded by Ramaphosa exactly the next day. Zuma was born on 12 April 1942 in Nkandla, South Africa.
He began work as a child to support his family and therefore could not pursue formal schooling after losing his father early in life. He joined the National Party of Africa and its military wing during his adolescence. His conspiracy to overthrow the South-African apartheid government earned him a sentence of ten years in jail. His father died in the World War II.
Did you know? He has married six times and he is a polygamist. He has four wives at present and is known as the father of 20 children, born of his wives, friends and other women.
Kgalema Motlanthe
(2008-2009)
Kgalema Petrus Motlanthe served as president between 25 September 2008 and 9 May 2009 this was exactly after the resignation of Thabo Mbeki.

He did not want any government position in the 2009 elections. He said that his goal was to "ensure the proper opening of the new President." President Jacob Zuma chose him to hold a post until 2014 as Deputy President.
Thabo Mbeki
(1999-2008)
Thabo Mbeki was born on 18 June 1942 and served as South African President from 16 June 1999 to 24 September 2008 after Nelson Mandela.
He earned a Masters of Economics degree from Sussex University in Britain and received military training in the Soviet Union, which really helped in the ANC's armed campaign against apartheid.
In 2004 Mbeki was re-elected as president approved by the constitution of South Africa for the second term. Yet he lost an ANC leadership contest at the end of 2007 to rival Jacob Zuma, who was now set as President of South Africa in next year.
Did you Know?  Thabo Mbekis' father was in the same jail with Nelson Mandela.
Nelson Mandela
(1994-1999)
Born on 18 July 1918 was Nelson Rolihlahla Mandela who went ahead to become the first black head of state in South Africa.
Nelson was prisoned for life in 1962 for trying to overthrow the apartheid government of South Africa. He had secret talks during his time in prison with F. W. de Klerk, President of South Africa and was able to be released as a result of the talks. He was in prison for more than 27 years. 
In 1993, Mandela and  F.W. de Klerk received a Nobel peace prize for fighting the apartheid government system.
He then became president in 1994 elected by a democratic system.
He died on 5 December 2013.
Frederik Willem de Klerk
(1989-1994)
De Klerk was born on 18 March 1936 in Johannesburg and later became the President of South Africa in 1989. After finishing his degree in Bachelor of Law in 1958 he went ahead and became the Legal Counsel to the National Party until 1972. He won the Nobel Peace Price in 1993 and went ahead retiring from politic in 1997.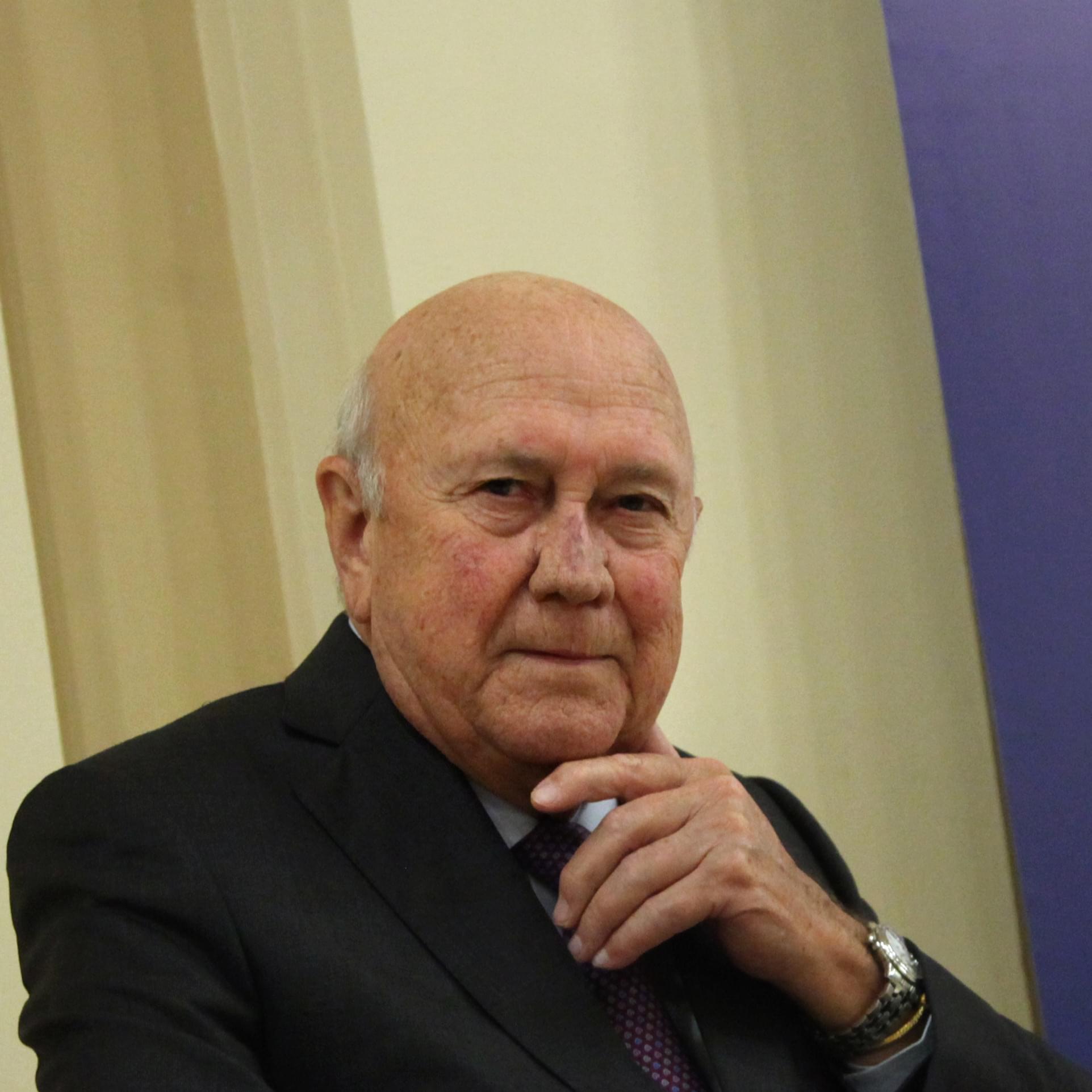 Chris Heunis
(1989-1989)
Chris Heunis was only 'president' for a little over 2 months this was because when the current President Pieter Botha suffered cerebral congestion. He was one of the candidates for the 1987 elections but was beaten in the second round of elections.
Heunis later retired from politics and did not take part in the 1989 elections.
He died on January 2006
P. W. Botha
(1984-1989)
Pieter Willem Botha was born in South Africa on 12th January 1916 to a father that was a commando and a mother that was held in a British concentration camp during the war.
He was studying Law but later dropped it to pursue his political career.
In 1983, Botha presented a new constitution, but it could only be voted on by white people.
It is widely acknowledged that thousands of individuals have been imprisoned, detained and tortured and killed, under the leadership of Pieter Willem Botha. Botha refused to apologize for apartheid because he believed that he had done his country the right thing.
He died on 31 October 2006.
Marais Viljoen
(1979-1984)
Born on 22 July 1903
Jan de Klerk
(1975-1975)
He was the father to Frederik Willem de Klerk.
Charles Robberts Swart
(1961-1967)
The First White President of South Africa was Charles Robberts Swart born on 1894.
---
All South African Presidents
Cyril Ramaphosa
(2018-
Jacob Zuma
(2009-2018)
Kgalema Motlanthe
(2008-2009)
Thabo Mbeki
(1999-2008)
Nelson Mandela
(1994-1999)
Frederik Willem de Klerk
(1989-1994)
Chris Heunis
(1989-1989)
P. W. Botha
(1984-1989)
Marais Viljoen
(1979-1984)
Jan de Klerk
(1975-1975)
Charles Robberts Swart
(1961-1967)
---
Question: When did South Africa gain ts independence?
Answer: South Africa gained its independence on 31 May 1961.
Question: How many presidents has South Africa had?
Answer: South Africa has had 11 presidents since 1961 when they gained independence.
Question: Who is the current South African president?
Answer: Cyril Ramaphosa