Ruth Chepngetich Wins Gold the Midnight Marathon in Doha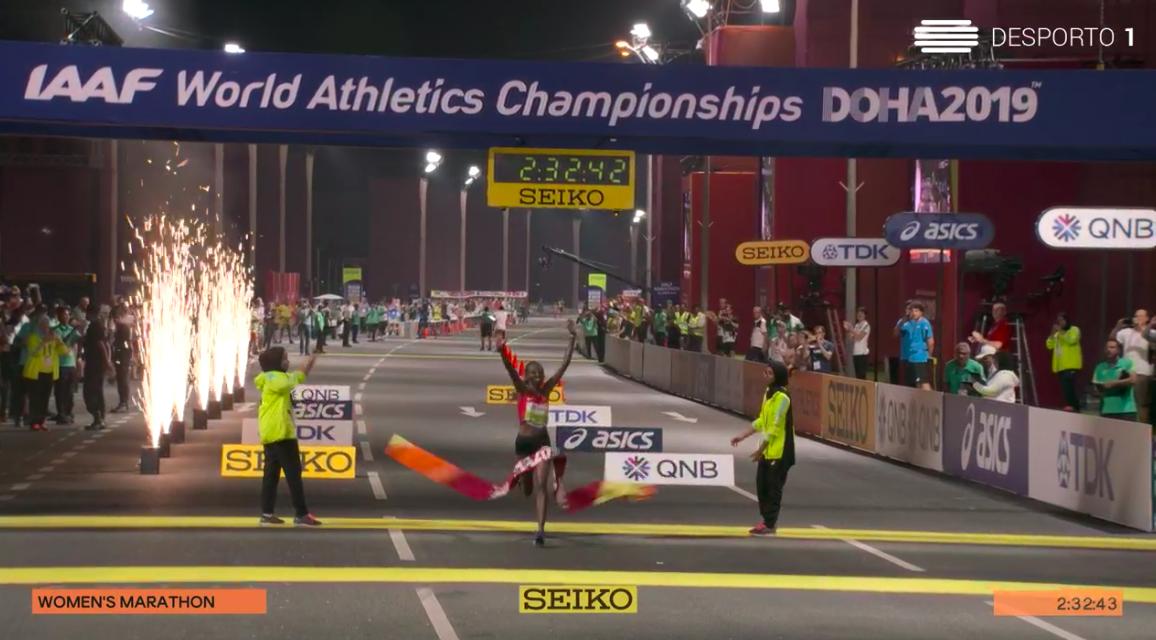 Ruth Chepngetich Wins Gold yet again and wins the first medal in the Championships
Queen of the Midnight Marathon' takes GOLD in Doha IAAF World Athletic Championships. She finished the marathon in 2:32:43 and is the first 2019 WORLD CHAMPION.
Congratulations to Ruth Chepngetich #womensmarathon #doha2019 brilliant run pic.twitter.com/TqwocreCxU

— Peter Kamau (@peter_kaus) September 27, 2019
Ruth Chepng'etich made her marathon debut in Istanbul in 2017 where she set a new course record of 2:22:36 before improving the time to 2:19:35 last year to affirm her long-distance prowess.
| DISCIPLINE | PERFORMANCE | WIND | PLACE | DATE | RECORDS | RESULTS SCORE |
| --- | --- | --- | --- | --- | --- | --- |
| 10 Kilometres | 31:12 | | Port Gentil (GAB) | 30 JUN 2019 | | 1203 |
| Half Marathon | 1:05:30 | | Istanbul (TUR) | 07 APR 2019 | | 1258 |
| Marathon | 2:17:08 | | Dubai (UAE) | 25 JAN 2019 | | 1263 |
Nicky, Poet At Large's Piece "This Song Is Giving Main Character Energy" Is a Life Hack for Leading a Happier Existence
As soon as I hit play, Nicky, Poet At Large makes a grand entrance in her quintessential poet-flavored lyricism over some hip-hop instrumentals in what is a deeply motivational ballad to anyone who may be feeling a little defeated and on the verge of collapse. A self-appointed Liberator of the world, Nicky is not resting until she emancipates the world from all sought of slavery; from mental to physical!
I've interacted with many of Nicky, Poet At Large's pieces and I always love and admire how original and authentic she is. You really don't get anything close to what this fierce lady offers. Straight-talking once she grabs the mic, you might always consider grabbing a seat because the wisdom she spits needs you relaxed, headphones plugged in, and with a pen and paper!
Well in this piece "This song is giving Main Character Energy", Nicky, Poet At Large reminds anyone who cares to listen that the great power of the universe is indeed within you and all that you desire with active faith, positivity, expectancy and purposeful conviction is on its way to you and if that which you wish for does not come, it's simply because something even better is on its way.
Look around and you will see how people have put money over meaning, profits over people, popularity over integrity, being busy over family, and achievement over loving and tell me we aren't overcomplicating life, and for what?
Nicky, Poet At Large hits the message home with the line "I can make anything successful because I am a success." My take homes from this piece were many and one that will guide the rest is that anyone's life can generally be a steady stream of beauty and success which has little to do with having a lot of money but has more to do with finding fulfillment in the smallest of things!
If you really feel and believe that you are one of a kind, it is probably a good idea that you write yourself a love letter while the words are still burning fresh in your head.
To listen to this inspirational track; follow the attached link, subscribe to Nicky, Poet At Large's official YouTube channel, watch it, and like it and share your thoughts in the comment section!
Catch Up With Nicky, Poet At Large on:
New York's Favourite JODI FitZ Marks His Comeback With a Catchy New Release Dubbed "Love Me" Featuring DMVTONE
It's about that time you got to update your playlist and what better way to do it than with JODI FitZ's new masterpiece "Love Me!" After having been away for some time, JODI FitZ is back and better. Bursting with love and passion and backed by boundless creativity, he is excited to announce his comeback which will be marked by this and other certified records as he seeks to remind the music world just how good he can be, just in case they forget; – and you know, with the madness that has been running through the world, it may be excused just this one time!
"Love Me" is one of those tracks that leaves a very tasty feel on you owing to its catchy vibe; so, don't get surprised to feel the track playing over your head several hours after listening to it! I feel that this release is also a testament to JODI FitZ's versatility as an artist and really displays his innate talent which deserves recognition.
"Love Me" has a little bit of everything which makes it genre-defying; the melodies here infuse that nostalgic reggae vibe with a modern dance/afrobeat and a colorful bit of hip hop vibe. JODI FitZ's raw vocals are really something; his emotion-drenched vocals and the atmospheric, feel-good instrumentation seamless work together to gratifying impact.
"Love Me" also contains strong love-flavored lyricism that will hook the listener due to the relatability and the anthemic storytelling as one unleashed here effortlessly by JODI FitZ and complemented impeccably by DMVTONE. The uplifting beat and irresistibly danceable melodic elements support the vocals in spectacular fashion allowing the infectious quality of this track to come out very well.
I have no doubt that "Love Me" will be unanimously acclaimed by listeners globally as it marks the start of what promises to be a spectacular rollercoaster ride that will see JODI FitZ release back-to-back hit anthems!
In addition to the good music, JODI FitZ is currently running a crypto giveaway that started on December 1st, 2022, and runs through December 25th when the winner will be announced on his live stream.
The winner will be chosen at random from among all entrants who've entered through: https://withkoji.com/@iamjodifitz
The prize? 200,000 Shiba Inu tokens! Don't miss out on this amazing opportunity to win some crypto tokens by listening to JODI FitZ's new song "Love Me" and entering the giveaway!
Catch Up With JODI FitZ on:
KEMETIKA's Track "IS vs AINT" off of His "KEMETIKA N AmeriiiKKKa" Album Is the Perfect Distillation of Lyrical Winery!
The music industry has been slow to declare a state of emergency and react to the new force in the game going by KEMETIKA! For a man who switches his stage name as he does his flows, it would be near negligence not to acknowledge his presence and the impact that he brings with him to the lyrical game. Listening through his tracks, it was clear as the light of day that his lyricism is inspired by everything real life; by tapping into his own communities needs, KEMETIKA is able to solve mysteries over any type of beat and perhaps remind loyal hip hip heads that real rap music isn't dead after all!
His latest album "KEMETIKA N AmeriiiKKKa" is a 19-piece masterpiece that is built from the story of a Black man trying to get himself through the shackles of oppression and free himself from the fetters of white supremacists. There is the mark of relevancy throughout this piece and the track "IS VS AINT" off of the album can be defined as the ultimate mark of poetic ingenuity.
Clam, composed and lyrically astonishing over the laid-back nostalgic beats, KEMETIKA really knows how to evoke emotions by tapping right into them. The oscillations of the piano tunes is a very deep element in this track that somehow drives the emotions a listener gets from this piece; while words may sometimes fail to quantify, the feeling is one of resonance.
I found it quite intriguing that "IS VS AINT" afforded me similar kinds of vibes as Nas' "Ghetto Reporter" off of his "KDIII" and that has to tell you something; KEMETIKA is a first class lyrical extraordinaire who is setting the stage for takeover and as his new found fan, I'm all for it!
You will find tracks such as "HOLYTOWN" and "Ukraine Fauci" off of the same album somewhat exceptional; – driven by the very weight they carry and backed by some realistic delivers over the mic!
To get acquainted with what is the future of real rap music; follow the attached link and delve deep into KEMETIKA's monumental discography!
Catch Up With KEMETIKA on: