100 Most Beautiful African Models Rulling the Fashion World
African Models:
Supermodels are not only found in runways and on magazine cover – they are increasingly featured on TV, in films, in music videos and in soccer. In this list you will not only find models but Socialites, Actresses, entrepreneurs who have made it to our list of the most Beautiful Women in Africa.
Nyadak Thot
She is know to be the face of Fenty Beauty. Thot finished third on the eighth round in Australia's Next Top Model, and made her first runway appearance at the Yeezy S / S 17 show.
Fatima Siad
Fatima Siad is a Ethiopian-Somali fashion African model. She participated in America's Next Top Model, Cycle 10 and placed third.
Leila Lopes
Leila Luliana da Costa Vieira Lopes Umenyiora is an Angolan actress, TV host, model and beauty queen who won the titles of Miss Angola UK 2010, Miss Angola 2010 and Miss Universe 2011.
Maria Borges
Candice Swanepoel
Candice Swanepoel is a South African Model who is known for working as a Victoria Secret Model.She was 8th on the top-earning model list of Forbes in 2016.
Herieth Paul
Herieth Paul is a model from Tanzania who modeled for Diane von Fürstenberg, Lacoste, Tom Ford, Calvin Klein, Armani, Cavalli and Phillip Lim 3.1
Gelila Bekele
She is a model from Ethiopia who is presently pursuing her passion as a documentary filmmaker.
Tanit Phoenix
Since featuring in Sports Illustrated Swimsuit in 2003, she is well known for her swimwear and lingerie photo shoots, as well as for her GQ and FHM covers in the year 2003. She is from South Africa

Yasmin Warsame
Zara Mohamed Abdulmajid
She is an Somali American fashion model, actrice and entrepreneur. Zara Mohamed Abdulmajid is known professionally as Iman. She is also renowned for her philanthropic work and as a longtime model of Gianni Versace, Halston, Calvin Klein and Yves Saint Laurent.
Malaika Firth
Malaika Firth is a British model born in Kenya. Firth caught the attention when she was first black model to appear in a Prada advertising campaign in 2013 in almost 20 years.
Adut Akech Bior
Adut Akech Bior is an Australian-South Sudanese hybrid. Akech made their debut on fashion week at the Saint Laurent S / S 17 show.
Liya Kebede
Liya Kebede is a model born of Ethiopia, motherly health advocate, designer of clothing and performer. Three times she featured on Vogue's cover. Since 2005, Kebede has been WHO Ambassador for Mother, Newborn and Child Health.
Agbani Darego
The Nigerian queen, Agbani Darego, is a beauty and model that was awarded the title of Miss World in 2001. She was Miss World's first indigenous African.
Lisa-Marie Jaftha
Anais Mali
Micaela Reis
The actress, TV host, model and beauty queen from Angola, Micaela Patrícia Reis was a top 10 finalists in 2007 and first Miss World ranked in 2007, and became a Miss World Africa.
Huddah Monroe
She is  model gained media attention after she participated in the Big Brother Africa 8 show in South Africa.
Honorine Uwera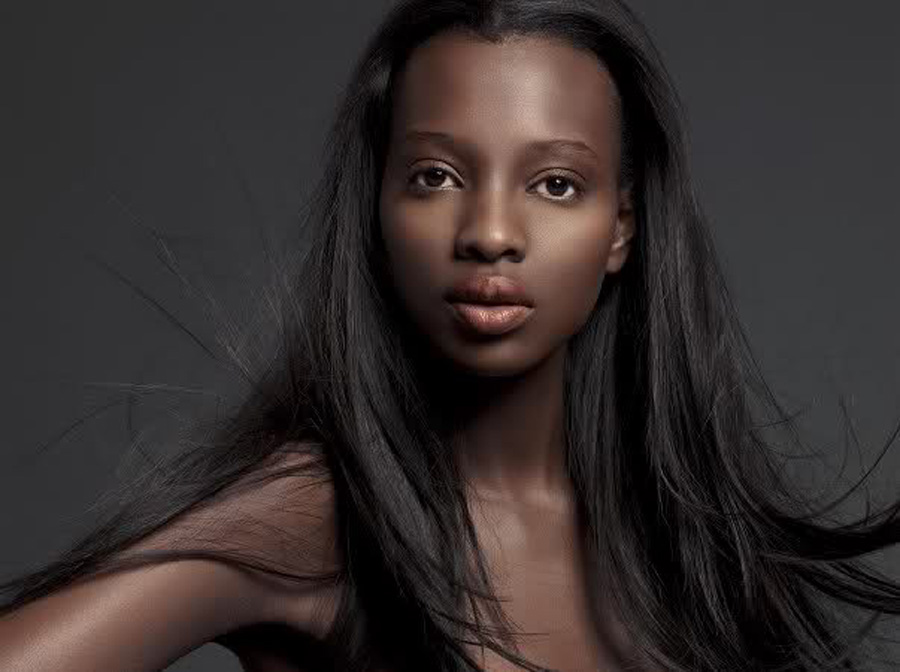 Flaviana Matata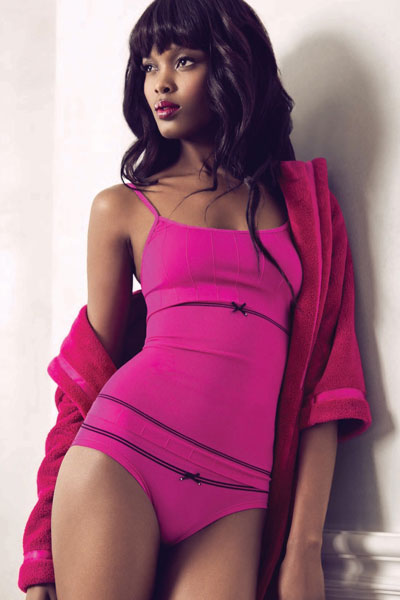 Tiguida
Azie Tesfai
Nyasha Matonhodze
Nyasha Matonhodze is a Zimbabwean-British fashion model.
Genevieve Nnaji
She is a multi-talented actress, model and singer with multi-award winners, the unique combination of beauty and minds.
Lorraine Van Wyk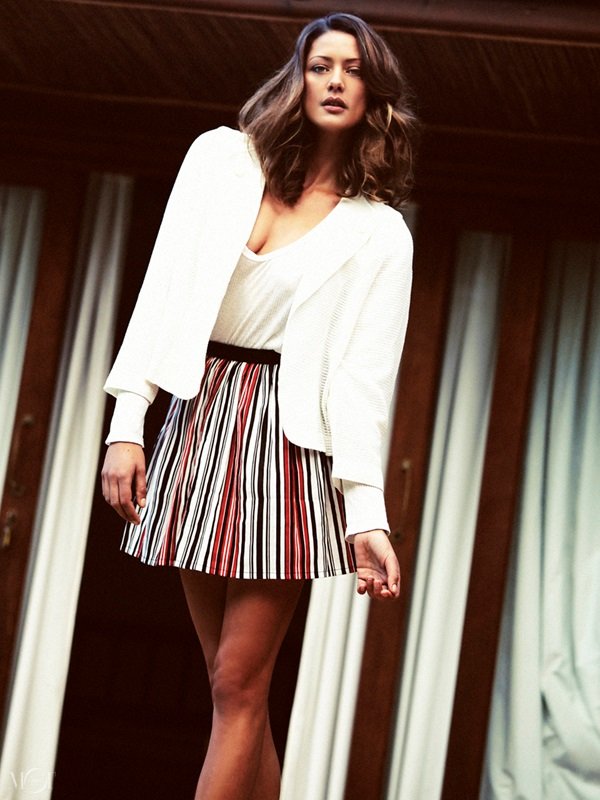 Gugu Mbatha-Raw
Gugulethu Sophia Mbatha-Raw is an english actress, known for her roles as Kelly in the Black Mirror, as Dido Elizabeth Belle of Belle, as well as Noni Jean in beyond the lights.
Dillish Matthew
She won a few hundred thousand dollars in Namibia's Big Brother show in 2013. Her dad is Kenyan, she was born in 1990 in Namibia.
Lily Corazon
Lily Corazon is from Kenya.
Liris Crosse
Liris Crosse has one of the most exciting runway walks in the game, she is also known as the "Naomi Campbell of Plus" She is one of the leading Plus Size African Models

Devorah Story
She has partnered with a wide number of brands including Ashley Stewart, Jibri, Rue 107, Curlbox and Creme Of Nature.
Monique Robinson
Monique is a signatory to the Dorothy Combs Modeling Agency and is both well known and respected for her work.
Philomena Kwao
Alexis Henry
Alessandro Henry is the founder of the "Plus One Podcast" model and one of InStyle Magazine's most popular modelers for styling fresh faces. She is oe of the top Plus Size African Models.
Nedra Phillips
Chante Burkett
Precious Lee
In the age of social media, securing a coveted runway exclusive is no longer the only way for a new face to differentiate itself during the fashion month. While in Prada or Givenchy a leading position still turns heads, modeling can not be reduced to numbers. In other words, you don't have to stand out from the crowd to move.
African International Multifaceted Artist Gibrilville Is Set to Release His New Reggae-Inspired Single "Long Way" on December 21st 2022
For a man who has been through many adversities to count and managed to come out the other side stronger, more skilled and with greater intimacy of his most supreme and invincible nature, he surely is the best example to emulate; Gibril who goes via his artistic name of Gibrilville has always shown tremendous strength, fortitude and power since the day he was born and which have made him reach this far. Music has always been his creative outlet and what makes him feel alive. A multi-genre artist himself who was born in Ghana before migrating to the USA in 2000, his style mirrors the different cultures he has interacted with and that is what makes it unique and instantly recognizable.
Gibrilville has made it his sole mission to unite the African continent through his music and I'm proud to report that all his hard work, sacrifice & suffering, careful consistency and brilliant bravery have been paying off.
Gibrilville is set to drop his new reggae jam "Long Way" on December 21st, 2022. In this tune, he tells his story as an immigrant trying to look for work in a foreign land and facing impossible odds which required him to sacrifice a big chunk of his identity like being asked to cut his hair. Facing loneliness and lacking funds in a long way from home, things can only get worse but he persevered and the man he is now is a result of everything that he has had to endure.
There is nothing quite honest and mature-sounding like reggae music and in "Long Way", Gibrilville perches upon the overwhelmingly alluring reggae melodies to tell his story in a way that a listener can relate to in a personal manner and as you press the play button; it is all laid out for you – you just have to push the volume up and you'll own your day. The backing female vocals add that depth and color to this already fascinating and inspiring track.
By detailing his journey which was marred by difficulties, "Long Way" is somewhat supposed to help a listener stop focusing on their deficiencies and start embracing their lavish talents, luminous strengths, and breathtaking powers!
Mark the 21st on your calendar and set a reminder because this is a captivating track you don't want to miss. Follow Gibrilville everywhere so as to receive real-time updates on this and his future endeavors!
Catch Up With Gibrilville on:
Nicky, Poet At Large's Piece "This Song Is Giving Main Character Energy" Is a Life Hack for Leading a Happier Existence
As soon as I hit play, Nicky, Poet At Large makes a grand entrance in her quintessential poet-flavored lyricism over some hip-hop instrumentals in what is a deeply motivational ballad to anyone who may be feeling a little defeated and on the verge of collapse. A self-appointed Liberator of the world, Nicky is not resting until she emancipates the world from all sought of slavery; from mental to physical!
I've interacted with many of Nicky, Poet At Large's pieces and I always love and admire how original and authentic she is. You really don't get anything close to what this fierce lady offers. Straight-talking once she grabs the mic, you might always consider grabbing a seat because the wisdom she spits needs you relaxed, headphones plugged in, and with a pen and paper!
Well in this piece "This song is giving Main Character Energy", Nicky, Poet At Large reminds anyone who cares to listen that the great power of the universe is indeed within you and all that you desire with active faith, positivity, expectancy and purposeful conviction is on its way to you and if that which you wish for does not come, it's simply because something even better is on its way.
Look around and you will see how people have put money over meaning, profits over people, popularity over integrity, being busy over family, and achievement over loving and tell me we aren't overcomplicating life, and for what?
Nicky, Poet At Large hits the message home with the line "I can make anything successful because I am a success." My take homes from this piece were many and one that will guide the rest is that anyone's life can generally be a steady stream of beauty and success which has little to do with having a lot of money but has more to do with finding fulfillment in the smallest of things!
If you really feel and believe that you are one of a kind, it is probably a good idea that you write yourself a love letter while the words are still burning fresh in your head.
To listen to this inspirational track; follow the attached link, subscribe to Nicky, Poet At Large's official YouTube channel, watch it, and like it and share your thoughts in the comment section!
Catch Up With Nicky, Poet At Large on:
New York's Favourite JODI FitZ Marks His Comeback With a Catchy New Release Dubbed "Love Me" Featuring DMVTONE
It's about that time you got to update your playlist and what better way to do it than with JODI FitZ's new masterpiece "Love Me!" After having been away for some time, JODI FitZ is back and better. Bursting with love and passion and backed by boundless creativity, he is excited to announce his comeback which will be marked by this and other certified records as he seeks to remind the music world just how good he can be, just in case they forget; – and you know, with the madness that has been running through the world, it may be excused just this one time!
"Love Me" is one of those tracks that leaves a very tasty feel on you owing to its catchy vibe; so, don't get surprised to feel the track playing over your head several hours after listening to it! I feel that this release is also a testament to JODI FitZ's versatility as an artist and really displays his innate talent which deserves recognition.
"Love Me" has a little bit of everything which makes it genre-defying; the melodies here infuse that nostalgic reggae vibe with a modern dance/afrobeat and a colorful bit of hip hop vibe. JODI FitZ's raw vocals are really something; his emotion-drenched vocals and the atmospheric, feel-good instrumentation seamless work together to gratifying impact.
"Love Me" also contains strong love-flavored lyricism that will hook the listener due to the relatability and the anthemic storytelling as one unleashed here effortlessly by JODI FitZ and complemented impeccably by DMVTONE. The uplifting beat and irresistibly danceable melodic elements support the vocals in spectacular fashion allowing the infectious quality of this track to come out very well.
I have no doubt that "Love Me" will be unanimously acclaimed by listeners globally as it marks the start of what promises to be a spectacular rollercoaster ride that will see JODI FitZ release back-to-back hit anthems!
In addition to the good music, JODI FitZ is currently running a crypto giveaway that started on December 1st, 2022, and runs through December 25th when the winner will be announced on his live stream.
The winner will be chosen at random from among all entrants who've entered through: https://withkoji.com/@iamjodifitz
The prize? 200,000 Shiba Inu tokens! Don't miss out on this amazing opportunity to win some crypto tokens by listening to JODI FitZ's new song "Love Me" and entering the giveaway!
Catch Up With JODI FitZ on: