100 Most Beautiful African Models Rulling the Fashion World
African Models:
Supermodels are not only found in runways and on magazine cover – they are increasingly featured on TV, in films, in music videos and in soccer. In this list you will not only find models but Socialites, Actresses, entrepreneurs who have made it to our list of the most Beautiful Women in Africa.
Nyadak Thot
She is know to be the face of Fenty Beauty. Thot finished third on the eighth round in Australia's Next Top Model, and made her first runway appearance at the Yeezy S / S 17 show.
Fatima Siad
Fatima Siad is a Ethiopian-Somali fashion African model. She participated in America's Next Top Model, Cycle 10 and placed third.
Leila Lopes
Leila Luliana da Costa Vieira Lopes Umenyiora is an Angolan actress, TV host, model and beauty queen who won the titles of Miss Angola UK 2010, Miss Angola 2010 and Miss Universe 2011.
Maria Borges
Candice Swanepoel
Candice Swanepoel is a South African Model who is known for working as a Victoria Secret Model.She was 8th on the top-earning model list of Forbes in 2016.
Herieth Paul
Herieth Paul is a model from Tanzania who modeled for Diane von Fürstenberg, Lacoste, Tom Ford, Calvin Klein, Armani, Cavalli and Phillip Lim 3.1
Gelila Bekele
She is a model from Ethiopia who is presently pursuing her passion as a documentary filmmaker.
Tanit Phoenix
Since featuring in Sports Illustrated Swimsuit in 2003, she is well known for her swimwear and lingerie photo shoots, as well as for her GQ and FHM covers in the year 2003. She is from South Africa

Yasmin Warsame
Zara Mohamed Abdulmajid
She is an Somali American fashion model, actrice and entrepreneur. Zara Mohamed Abdulmajid is known professionally as Iman. She is also renowned for her philanthropic work and as a longtime model of Gianni Versace, Halston, Calvin Klein and Yves Saint Laurent.
Malaika Firth
Malaika Firth is a British model born in Kenya. Firth caught the attention when she was first black model to appear in a Prada advertising campaign in 2013 in almost 20 years.
Adut Akech Bior
Adut Akech Bior is an Australian-South Sudanese hybrid. Akech made their debut on fashion week at the Saint Laurent S / S 17 show.
Liya Kebede
Liya Kebede is a model born of Ethiopia, motherly health advocate, designer of clothing and performer. Three times she featured on Vogue's cover. Since 2005, Kebede has been WHO Ambassador for Mother, Newborn and Child Health.
Agbani Darego
The Nigerian queen, Agbani Darego, is a beauty and model that was awarded the title of Miss World in 2001. She was Miss World's first indigenous African.
Lisa-Marie Jaftha
Anais Mali
Micaela Reis
The actress, TV host, model and beauty queen from Angola, Micaela Patrícia Reis was a top 10 finalists in 2007 and first Miss World ranked in 2007, and became a Miss World Africa.
Huddah Monroe
She is  model gained media attention after she participated in the Big Brother Africa 8 show in South Africa.
Honorine Uwera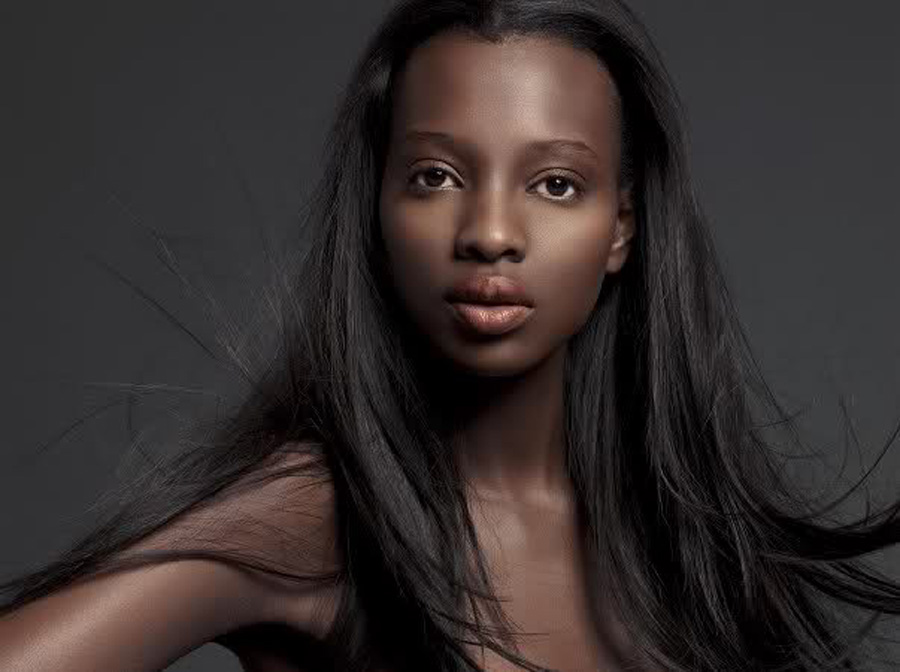 Flaviana Matata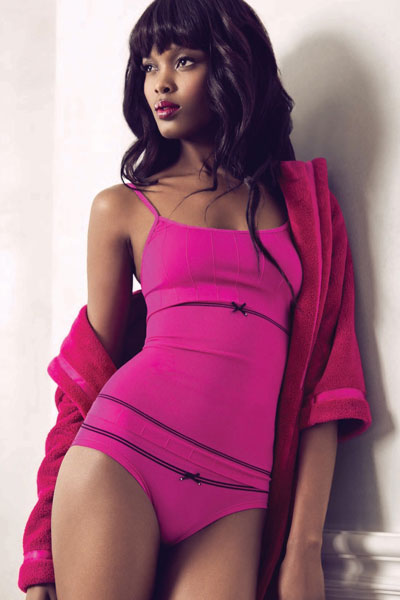 Tiguida
Azie Tesfai
Nyasha Matonhodze
Nyasha Matonhodze is a Zimbabwean-British fashion model.
Genevieve Nnaji
She is a multi-talented actress, model and singer with multi-award winners, the unique combination of beauty and minds.
Lorraine Van Wyk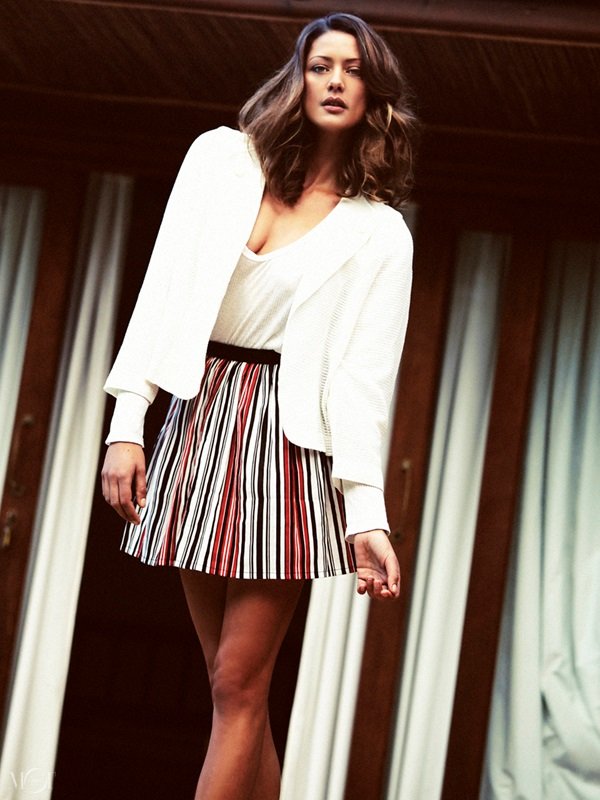 Gugu Mbatha-Raw
Gugulethu Sophia Mbatha-Raw is an english actress, known for her roles as Kelly in the Black Mirror, as Dido Elizabeth Belle of Belle, as well as Noni Jean in beyond the lights.
Dillish Matthew
She won a few hundred thousand dollars in Namibia's Big Brother show in 2013. Her dad is Kenyan, she was born in 1990 in Namibia.
Lily Corazon
Lily Corazon is from Kenya.
Liris Crosse
Liris Crosse has one of the most exciting runway walks in the game, she is also known as the "Naomi Campbell of Plus" She is one of the leading Plus Size African Models

Devorah Story
She has partnered with a wide number of brands including Ashley Stewart, Jibri, Rue 107, Curlbox and Creme Of Nature.
Monique Robinson
Monique is a signatory to the Dorothy Combs Modeling Agency and is both well known and respected for her work.
Philomena Kwao
Alexis Henry
Alessandro Henry is the founder of the "Plus One Podcast" model and one of InStyle Magazine's most popular modelers for styling fresh faces. She is oe of the top Plus Size African Models.
Nedra Phillips
Chante Burkett
Precious Lee
In the age of social media, securing a coveted runway exclusive is no longer the only way for a new face to differentiate itself during the fashion month. While in Prada or Givenchy a leading position still turns heads, modeling can not be reduced to numbers. In other words, you don't have to stand out from the crowd to move.
Paul Nderitu Exposed for Winning All Social Media Giveaways
Kenyans on Twitter today exposed a man by the name Paul Nderitu who has been winning social media giveaways for years.
His Friday victory in the 2019 Jumia Black Friday voucher was triggered Kenyans online.
This led many Kenyans to compile Mr Nderitu's pictures receiving donations from various companies such as Masoko, Safaricom, Uber, I&M Bank, LG, Samsung, Nivea, Star Times, Garden City, Cytonn and Heineken.
The photos below show some of the awards and social media give aways that Paul nderitu has won over the years since 2009.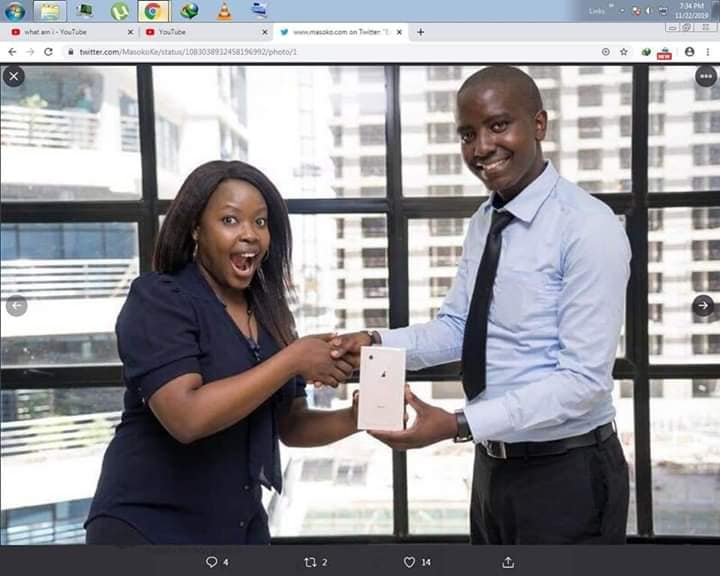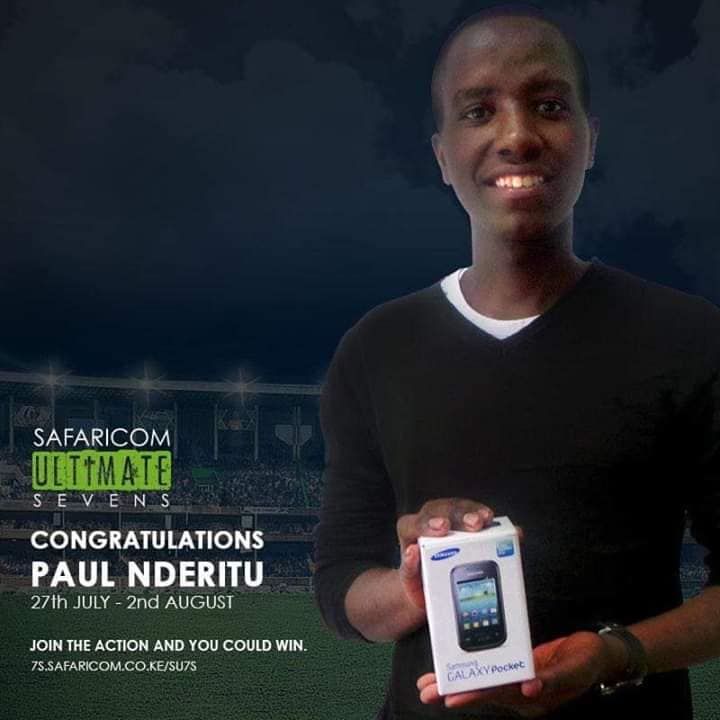 Paul Nderitu was known to have 3 twitter handles and have all been deactivated after he was exposed on Friday by a Twitter user.
THIS LOOKS FISHY ?

So there is a guy on Social Media by the Name PAUL NDERITU
Twitter handles @GmieMicha or @PNderitu1

Who for years has been Winning ALL SOCIAL MEDIA GIVEAWAYS

Today he just won the #JumiaBlackFriday2019 50k voucher @JumiaKenya

— Rose Don't Call Me Angel?‍♀️ (@Roseanyiko) November 22, 2019
We will miss @SportPesa . They had no Paul Nderitu! @StandardKenya

— Mutugi Christopher M (@Chrisvillacruz) November 23, 2019
Paul Nderitu every morning. pic.twitter.com/NHeFoIYOuB

— Limorio (@Limo_alan) November 23, 2019
All Corporates who have awarded Paul Nderitu any kind of gift, voucher or monetary prize should be censured and punished by giving out freebies to all participants who took part in the fake competitions!

— SaccoTek (@SaccoTek) November 23, 2019
#ThePerfectBreakUp story of Paul Nderitu & the absence of a Twin Cooling Plus fridge in his life… pic.twitter.com/y7oXjoj3B7

— Samsung Kenya (@SamsungKE) December 22, 2016
The tweets above show Nderitu winning awards from firms such as Killimall, Chase Bank, Jambojet, LG Electronic East Africa, Heineken Kenya, Cytonn Real Estate, Garden City Nairobi, Cytonn Real Estate, NIVEA, Uber Kenya, NCBA, Safaricom.
---
Patco on Kenya Talk said "Kenyan corporates na pata potea scam hakuna tofauti. Kwa pata potea kuna wale "customers" huwa wa kuvuta kondoo ndio zichinjwe. Unaona jamaa anashinda virahisi sana, anadungwa "winnings" alafu anajipa shugli. Kumbe ameenda tu hapo kando, wewe pia unaamua kucheza vile uliona akifanya… fee/rent zinakunywa maji hivyo. It also shows the Betting Control and Licensing Board is a useless/corrupt organization."
007 on Kenya Talk said "They use his name to scam/bait other players. All those supposed winnings are just for show.
He gets a stipend when the cameras are gone…. 
"
---
Kenyans on Twitter today exposed a man by the name Paul Nderitu who has been winning social media giveaways for years.
His Friday victory in the 2019 Jumia Black Friday voucher was triggered Kenyans online.
This led many Kenyans to compile Mr Nderitu's pictures receiving donations from various companies such as Masoko, Safaricom, Uber, I&M Bank, LG, Samsung, Nivea, Star Times, Garden City, Cytonn and Heineken.
The photos below show some of the awards and social media give aways that Paul nderitu has won over the years
Ruth Chepngetich Wins Gold the Midnight Marathon in Doha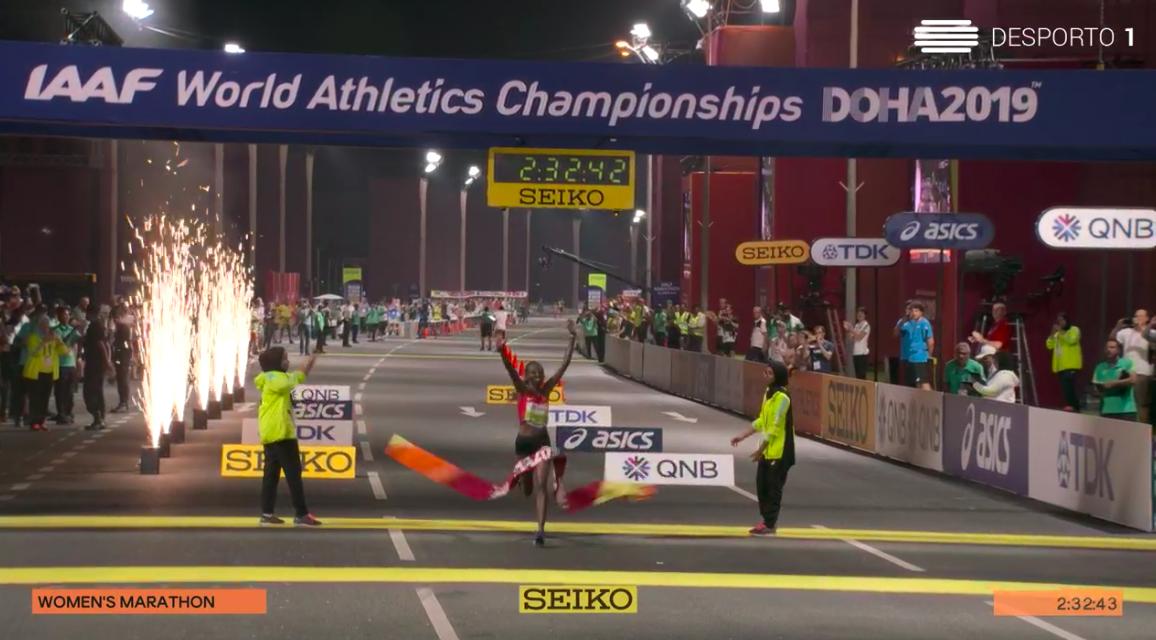 Ruth Chepngetich Wins Gold yet again and wins the first medal in the Championships
Queen of the Midnight Marathon' takes GOLD in Doha IAAF World Athletic Championships. She finished the marathon in 2:32:43 and is the first 2019 WORLD CHAMPION.
Congratulations to Ruth Chepngetich #womensmarathon #doha2019 brilliant run pic.twitter.com/TqwocreCxU

— Peter Kamau (@peter_kaus) September 27, 2019
Ruth Chepng'etich made her marathon debut in Istanbul in 2017 where she set a new course record of 2:22:36 before improving the time to 2:19:35 last year to affirm her long-distance prowess.
| DISCIPLINE | PERFORMANCE | WIND | PLACE | DATE | RECORDS | RESULTS SCORE |
| --- | --- | --- | --- | --- | --- | --- |
| 10 Kilometres | 31:12 | | Port Gentil (GAB) | 30 JUN 2019 | | 1203 |
| Half Marathon | 1:05:30 | | Istanbul (TUR) | 07 APR 2019 | | 1258 |
| Marathon | 2:17:08 | | Dubai (UAE) | 25 JAN 2019 | | 1263 |
The Sky in part of Indonesia transformed into an apocalyptic red like color due to extensive forest fires. In order to combat the forest fires over 10,000 firefighters were deployed.
The red color emerges due to a phenomenon called Rayleigh Scattering, in which smoke and airborne particles affects the sunlight making it be dim and red.
Locals in the province of Jambi were terrified by this and some of them reported that their eyes and throats were hurting after this ordeal.
Others Said:
"it's hard to breathe," the 25-year-old told the PA news agency. "The burning forest happens every year, but this is the first time the sky turned red and the air quality became too dangerous for people.
Indonesia looks like Mars because of the forest fires.. pic.twitter.com/pCKozycwRH

— Best of Aliexpress and China (@coolstuffcheap) September 23, 2019
The forest fires that have been happening lately and has forced the closure of schools and airports and also cause the death of hundreds of species in the Amazon. There has also been an increase in reports of respiratory illnesses.
Human activity accounts for 90% of forest fires in Europe. Make sure that you are careful while loving nature these warm days! Be cautious when you put away a cigarette and make a barbeque. When you see any suspiciousness do not be afraid to speak out or report to the relevant authorities.
Forest Fires are one of the causes and contributors to Climate Change.
Forest Fires Vocabulary
Logger: a person who cuts trees for timber; a lumberjack, some of them do it for money.
Deforestation: the removal of a forest or stand of trees from a land which is then converted to a non-forest use.
Satellite Data: images of Earth collected by an artificial craft which orbits the earth which gives us information on what is happening around the earth.
Biodiversity: Variety of plants and animals in the globe and in a specific environment, which is often deemed significant and attractive at an elevated stage.